We're looking forward to greeting you whether you come to fish or to just relax and enjoy the scenery. Weekly rentals are from Saturday at 1:00pm, to Saturday at 9:00am. Please, no early arrivals except by special arrangements, we need the time to make sure your cottage is clean and tidy for you when you arrive.
Bookings and Deposits
A deposit of $300. per week or $200. per partial week per cottage and $50. weekly per outboard motor/ $200. for pontoon boat by credit card assures your reservation.
Cheques, Visa and Mastercard are accepted for deposits.
Priority will be given to all reservations received before February 14th.
Damage deposit required for all cottage rentals by Mastercard or Visa at check-in.
Cancellation Policy: Deposits will be refunded with six weeks notice, less a cancellation fee of $50. With less than six weeks notice, deposits will be refunded upon our availability to re-book your accommodation, less a cancellation fee of $50. No adjustments for late arrivals or early departures.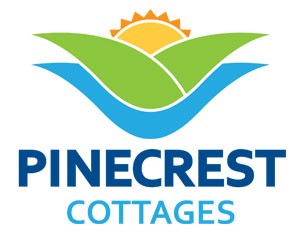 We reserve the right to re-let accommodation if reservations are not claimed by 6:00pm, unless other arrangements have been made with the management. We do not have facilities for tents and trailers. Cancellation by phone only to help us re-book.
Payment on arrival — Cash, Interac, VISA or Mastercard only.
CHECK IN 1:00PM CHECK OUT 9:00AM
ALL PRICES IN CANADIAN FUNDS • ALL RATES SUBJECT TO CHANGE • TAXES EXTRA