Rice Lake Cottages, ON, Canada
Pinecrest Rice Lake Cottages are a family-friendly fishing resort for Walleye, Panfish, Bluegill, Bass, and Muskie situated on the south shore of Rice Lake, Ontario, Canada in a great tourist area with various activities for all ages to enjoy; the ideal family vacation!
Rice Lake Cottages
Our Rice Lake cottage rentals have spectacular views of Rice Lake and the surrounding islands in a setting where one can focus on relaxation and enjoyment of the beautiful scenery. Come for a relaxing Rice Lake cottage vacation with warm hospitality and helpful, friendly staff.
Pinecrest Cottages management is fully committed to making you feel welcome and ensuring your stay is comfortable and enjoyable in our Ontario, Canada fishing resort. Our Rice Lake cottages are accessible from well-paved roads and just a short fifteen minute drive North of highway 401 (Exit 472).
Click here to learn more about our Rice Lake cottages and amenities.
Click here to get directions to us.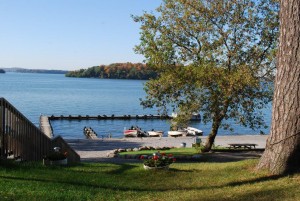 Rice Lake Fishing Boat Rental
Enjoy the day fishing on Rice Lake while staying in one of our Rice Lake cottages, using our fishing boat rentals and outboard motors available to our cottage guests and day visitors. We draw fishing enthusiasts from all over Canada and the USA, as well as Great Britain and Europe, who are looking to have a relaxing fishing vacation in Ontario at a family-friendly fishing resort on Rice Lake in Ontario Canada.
We are an excellent destination for Muskie fishing and Walleye fishing as well as Large and Small Mouth Bass, Bluegill, Perch, Rock Bass, Panfish, Crappie, Carp, and Catfish.
Take a look at our gallery and see some of the fine catches our guests have reeled in while fishing on our Rice Lake fisherman's destination. If you want some local Rice Lake fishing tips, visit our fishing tips page.