Panfish Fishing in Rice Lake: (from: The Fishing Guide)
Because of the weedy nature of much of Rice Lake, Panfish abound in these waters and provide food for the highly sought after predatory fish, such as Bass, Walleye, and Muskie.
Walleye Fishing in Rice Lake: (from: The Fishing Guide)
In spring, Rice Lake Walleye can be found in the weedflats around Bewdley, just west of Pinecrest Cottages. Cast a silver rattle spot, retrieve at medium speed in 5-8 ft. of water, try to cover a lot of water, this area is quite large. If the bite is off, try trolling in this area with a chartreuse worm harness. Also fish the mouth of the Otonobee River, where it spills into the lake across from our fishing lodge. Use jigs tipped with worms or minnows, in the deeper holding pools off Jubillee Point (ask us for directions). Rice Lake Pickerel/Walleye average 1-2 pounds, although some lunkers in the 5-6 lb range are not uncommon.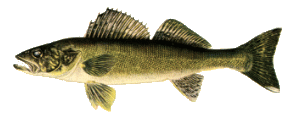 In summer, the Walleye school in the deeper channels on the south end of Rice Lake, just out from Gores Landing where our resort is located. Troll slowly with chartreuse worm harness in 17-21 ft. Once you catch a Walleye, anchor, and fish with jigs tipped with bait. Also fish the waters near Tick island and the old railway line (ask us for directions). Rice Lake Walleye can be difficult to locate in summer, fishing the pockets in heavy weeds, with white jigs, can be very rewarding.
Muskie Fishing in Rice Lake: (from: The Fishing Guide)
Rice Lake is famous for it's Muskie fishing. With the abundance of Panfish, these predator fish grow huge, with some fish tipping the scales in the 30lb range, although 10-15lb Muskie are more common. The best method to catch Rice Lake Muskie is by trolling. Cover lots of water along the deeper channels on the south end of Rice Lake. Use large body baits in perch patterns for best results, 6-9″ crankbait lures give best results. Also casting large bucktails along weedlines especially on windy days can be very effective on Rice Lake Musky.

Bass Fishing in Rice Lake: (from: The Fishing Guide)
Largemouth Bass are quite common in Rice Lake, and Professional Bass Tournaments are held yearly. In summer Largemouths are concentrated on the weedflats north of Bewdley which is west of our fishing resort. The weeds are high at this time of year, and they may choke the entire south-west bay. Look for clearings and pockets in the weeds and cast texas-rigged worms or plain jigs into the holes, motor-oil and smoke colours work best, use heavy line 14 lb. test and up, once again cover lots of water, check the weeds near 6-8 ft. of water. Mouth of Otonabee in the stumps off Cow Island is also a good bet. We can gice you directions. Go up Otonabee and fish the Lily pads near Bensfort Bridge, use frog imitations like the pop-r and snagproof sally. Rice Lake Bass can grow huge, many fish in the 5-6 lb range are caught annually, although the average Largemouth is 2 lbs.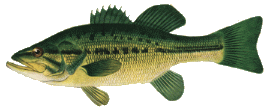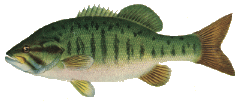 Smallmouth Bass can be caught in the deeper areas of Rice Lake in 15-17ft of water. Fishing the drop-off created by the sunken railroad near Tick Island is a prime smallmouth area. The many rocks from the old railway attract crayfish, the Smallmouth's favorite food. Ask us to point you in the right direction, we know the lake!